Sign up now to get this eNewsletter in your mailbox. Click here to sign up now.
Quick Quiz:

Q. What percentage of U.S. wealth is owned by the top 1 percent of Americans?
A: 25 percent
B: 33 percent
C: 42 percent
Bonus point if you know by how much the income of the top 1 percent grew over the last three decades.
Scroll down to see answer.
---
Gov. Jerry Brown presented a mixed bag of proposals for pension reform Thursday. On one hand are proposals that would aim to curb abuses and stop employers from taking "pension holidays" — areas in which SEIU 521  members have called for reform. But he also wants to raise the retirement age for all workers, and cut back on the stability of a pension while introducing the volatility of a 401(k).
SEIU 521 Pension Committee meets Tuesday, Nov. 1 at 6 p.m. to discuss the Gov.'s proposal.
The meeting is via video-conference from the Union offices with video capability.
Contact hoan.pham@seiu521.org for more information.
Read more: http://www.seiu521.org/2011/brown-pension-proposals
---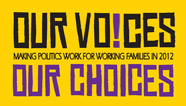 The 2012 Election is already underway and we need to hear from you! It's time to think about the issues that are important to working families and choose candidates that share our values!
Have your voice heard!
Survey deadline has been extended; please get yours in by Nov. 6.
Take the survey now: http://521.seiu.org/IssuesThatMatter
---
The wealthiest 1 percent in America owns 42 percent of the nation's wealth. Meanwhile, millions are unemployed. Congress needs to stand up for America's working families. We need jobs, not cuts!
How have you, your friends, and family been affected by the economy?
Tell your story, or share this campaign with a coworker, friend or family member and let them tell their story: http://521.seiu.org/99percent
Save the date: Thursday, Nov. 17 is National Day of Action.
Attend an action supporting Occupy Wall Street near you: http://521.seiu.org/ows 
---
Retiring? Join the 521 Retiree Chapter
Did you know that you can continue to be involved in your union during retirement?
That's right. SEIU Local 521 has Retiree Chapters throughout the region. As a retiree member, you will receive all of the benefits of union membership and be eligible to vote in localwide elections. Members also attend activities ranging from social events and barbeques to fundraisers and lobby days in Sacramento.
For information on joining the Retiree Chapter in your area, call Pamela Rodgers at (408) 678-3366 or email pamela.rodgers@seiu521.org.
Upcoming retiree event:
Attend a community forum with our U.S. Representatives. Topics include future of Medicare and Social Security.
WHEN: Wednesday, Nov. 2, 1 – 3 p.m.
WHERE: Bakersfield, Fresno, and San Jose union offices
Information: http://www.seiu521.org/2011/community-forum-for-retired-members
---
Quick Quiz:
Q. What percentage of U.S. wealth is owned by the top 1 percent of Americans?
Answer: C. The wealthiest 1 percent in America owns 42 percent of our nation's wealth.
Bonus Answer: From 1979 to 2007, average inflation-adjusted after-tax income grew by 275 percent for the 1 percent of the population with the highest income, according to the latest report from the Congressional Budget Office released this week. For the poorest fifth of the population, average real after-tax household income rose 18 percent.